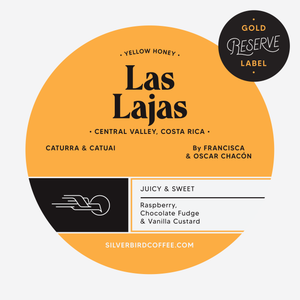 GOLD LABEL RESERVE Las Lajas - Costa Rica
Regular price
$20.00
$0.00
Unit price
per
JUICY & SWEET
Raspberry - Chocolate Fudge - Vanilla Custard

Las Lajas' yellow honey is full of red fruit flavors; in fact, opening the bag, you will smell the best fruit punch you can imagine. Expect to see notes of raspberry, pineapple, guava, and even strawberry banana milkshake. As the cups cools, these sweet and bright notes are supported by vanilla and toasted almond. The cup continues to develop a a more rich sweetness, picking up notes of chocolate fudge and vanilla custard.  
The Las Lajas washing station, owned by Oscar and Francisca Chacón, has come be one of the most famous in Costa Rica. This yellow honey process lot comes from their farm Finca Calle Lilies. They produced some of the first cherry-dried processed lots in Costa Rica to save their harvest during the drought of 2008. That experiment, born out of necessity, lead to some of the greatest coffee we have ever tasted. Years later they have developed precise processes for producing many forms of washed, honey, and cherry dried coffees. 
This yellow honey lot is a hybrid of the classic washed and cherry dried styles. The coffee skin is removed, like in a washed process, but some of the fruit is left on to slowly dry. Yellow honeys are rotated every hour to encourage more rapid drying. This creates a honey style with more vibrant flavors.
We have been able to meet the Chacón's multiple times, including visiting their mill in Sabanilla de Alajuela, where we saw their intricate processing methods first hand. They are truly some of the greatest coffee producers in the world; dedicated to innovation and consistency. Their knowledge and experience is shared many other great producers throughout the coffee growing world. Oscar and Francisca have a deep reputation of making great coffee, year after year, while making coffee better worldwide.
It is a honor to be able to bring this outstanding coffee and producer to you.
---