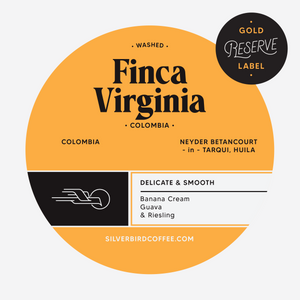 GOLD LABEL RESERVE Finca Virginia - Colombia
Regular price
$21.00
$0.00
Unit price
per
DELICATE & SMOOTH
Banana Cream - Guava - Riesling

PRODUCER: Neider Criollo Betancourt
REGION: Tarqui, Huila
PROCESSING METHOD: Washed
VARIETY: Colombia
Finca Virgina first makes its presence known through a creamy banana flavor with funky tropical fruit notes which reminds us of Jamaican rum. That tropical fruit funk clarifies and brightens into guava juice. Cooling the cup continues to evolve, taking on notes of Riesling wine.
Neider Criollo Betancourt owns the 2.5 acre Finca Virginia in Tarqui. He was born into a coffee grown family, but that came to an early end when his father passed away. Neider was just eight years old at the time. In 2012 Neider traded his motorcycle for his first piece of farmland. For the first eight years he was limited in his pursuit of quality due to lack of equipment. In 2020 he joined Asociación Los Naranjos, a cooperative Tony has personally visited and purchased from for many years. Joining the group gave Neider access to more resources and that year he produced his first specialty grade harvest.
Neider has developed a type of washed processing specific to the needs of his coffee. First, he allows his ripe cherry to rest overnight after it is picked. He then depulps and ferments for 48-72 hours; using his hand to judge the temperature of the coffee and determine when it is ready to be rinsed. This method was derived through a year of careful trial and error.
---