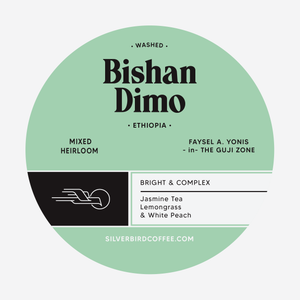 Bishan Dimo - Ethiopia
Regular price
$20.00
$0.00
Unit price
per
BRIGHT & COMPLEX
Jasmine Tea - Lemongrass - White Peach

PRODUCER: Faysel A. Yonis & Smallholder Farmers
REGION: Odo Shakiso, Guji Zone
PROCESS: Washed
VARIETIES: Mixed Heirloom

Bishan Dimo is a classic washed Guji with notes of jasmine from start to finish and a complex blend of citrus and stone fruit. Starting off the cup has more of a lemongrass and bergamot presence but shifts toward nectarine and white peaches as it cools. The sweetness reminds us of fresh pressed sugar cane. Continuing to develop, the cup picks up the structure of green tea, pairing well with the jasmine aromatics. 

Faysel built the Bishan Dimo washing station just six year ago. The only other mill in the area, which he had built but two years prior, was already at capacity. This region along the Mormora river was home to a few farmers growing indigenous Guji varieties. Their challenge was the nearest mill was a several kilometer trek to Shakiso town.
By establishing two mills in the region, offering training, and paying premium wages to producers with superior harvests, Faysel has improved the coffee and quality of life in the region. What started as a few farmers has grown to over a thousand. Focusing on quality has lead to higher farmer income which has encouraged others in the area to shift their focus to coffee as well. Faysel and his team continues to invest in the community through the addition of a community school, ecological improvements, and partnerships with the government to bring better health care to the region.

---